The following works are currently on the easel and will be available to purchase soon (please contact me to express interest).
……………………
Oystercatcher series
Based on a recent sketch I did at Penmon, Ynys Mon (Anglesey), I am working on a series of monochrome/limited palette paintings on paper, and monoprints.
……………………
Garrowby Hill series

I see Garrowby Hill every day. It rises out of the Vale of York, beyond Stamford Bridge, and marks the edge of the Yorkshire Wolds. Sometimes it glows gold.
Now that I'm allowed out to paint again, I will be visiting it regularly to record the colour and changing light of the vast panoramic view.
The en plein air painting on the far easel is 600 x 400 mm acrylic, charcoal and chalk on canvas, and the larger one on the closest easel is 600 x 600 mm acrylic (might have some charcoal and chalk thrown in as well as it progresses – we'll see!).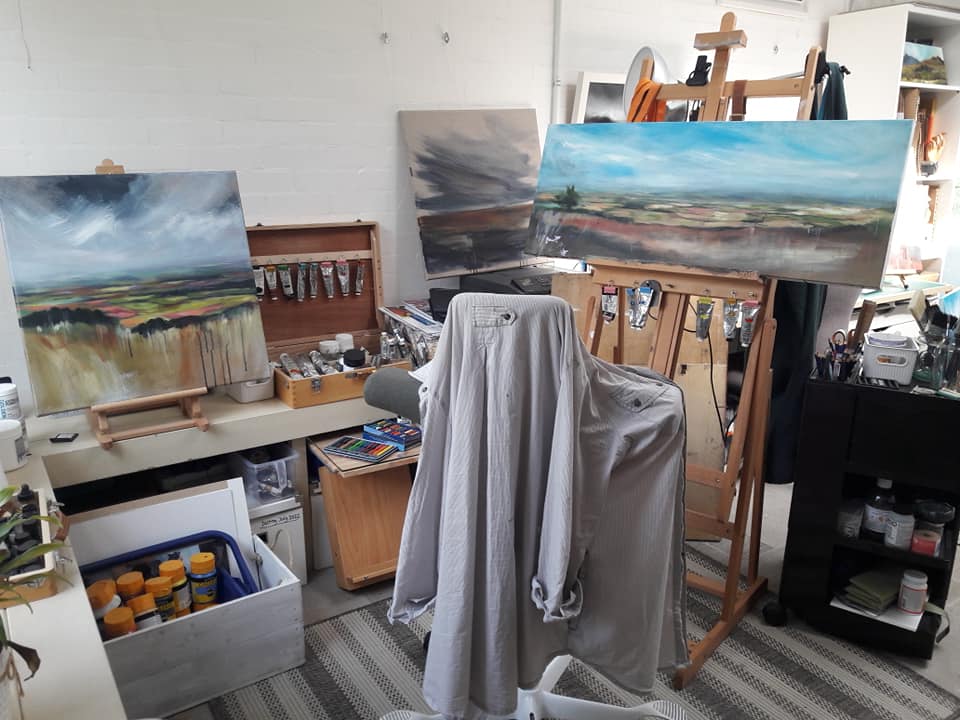 The large panoramic canvas (August: Garrowby Hill) on the easel, above, was painted en plein air on a very hot summer's day. A little more to do with the foreground on this one, then it's done. It measures 1015 x 400 mm and it's on a deep edge canvas that doesn't require framing.
These paintings will be available from galleries and events soon. I will continue to work on the series through the year.
……………………
Dune is 1200 x 400 mm, mixed media on deep canvas. Richly coloured and textured, it is inspired by September's studies of the Northumberland coast. This piece will be left unframed. I've got a little more to do to the foreground.
……………………
At the framer's and available soon…