Just south of York lies the pretty village of Stillingfleet and at its heart is Stillingfleet Lodge Gardens, a beautiful, natural garden owned and run by Vanessa and John Cook.
I exhibited during September, having visited the gardens throughout the year to record it with sketches and paintings. The exhibition consisted mainly of my graphite and watercolour works on paper, and will also include works from my recent Rhinogydd series.
Please contact me if you are interested in purchasing any of these works on paper. They can be supplied unmounted, in mounts ready to frame at home, or framed.

Contact Kate
A sketch book is also available to buy from my online shop, containing these studies and notes from my visits.
FEBRUARY
My first visit was on a freezing cold February day. Lynne (Roebuck) and I managed about four hours before losing feeling in our feet, but managed to get a feel for the place. Donald, the Bengal cat kept us company, as did the very stylish bantams. The guineafowl proved elusive and kept running off as soon as I got my sketch pad out, but I remain determined to get the little devils before the year's out!
JUNE
After being 'rained off' for most of the spring, I returned on a hot day in June. Ironically, after such a wet spring, the ground was now bone-dry, but the flowers were out in abundance. The guineafowl could be heard, taunting me, from the other side of the fence. I didn't try and draw them this time – I'm still determined to get them before I'm done though!
JULY
I went back to draw the gorgeous white eryngiums. It was a bit cooler this time, so I could sit in the Pear Tree garden without burning (it's a sun-trap). I love the graphic shapes or eryngium flowers, and the negative spaces they create against the darker backdrop. They are almost luminous.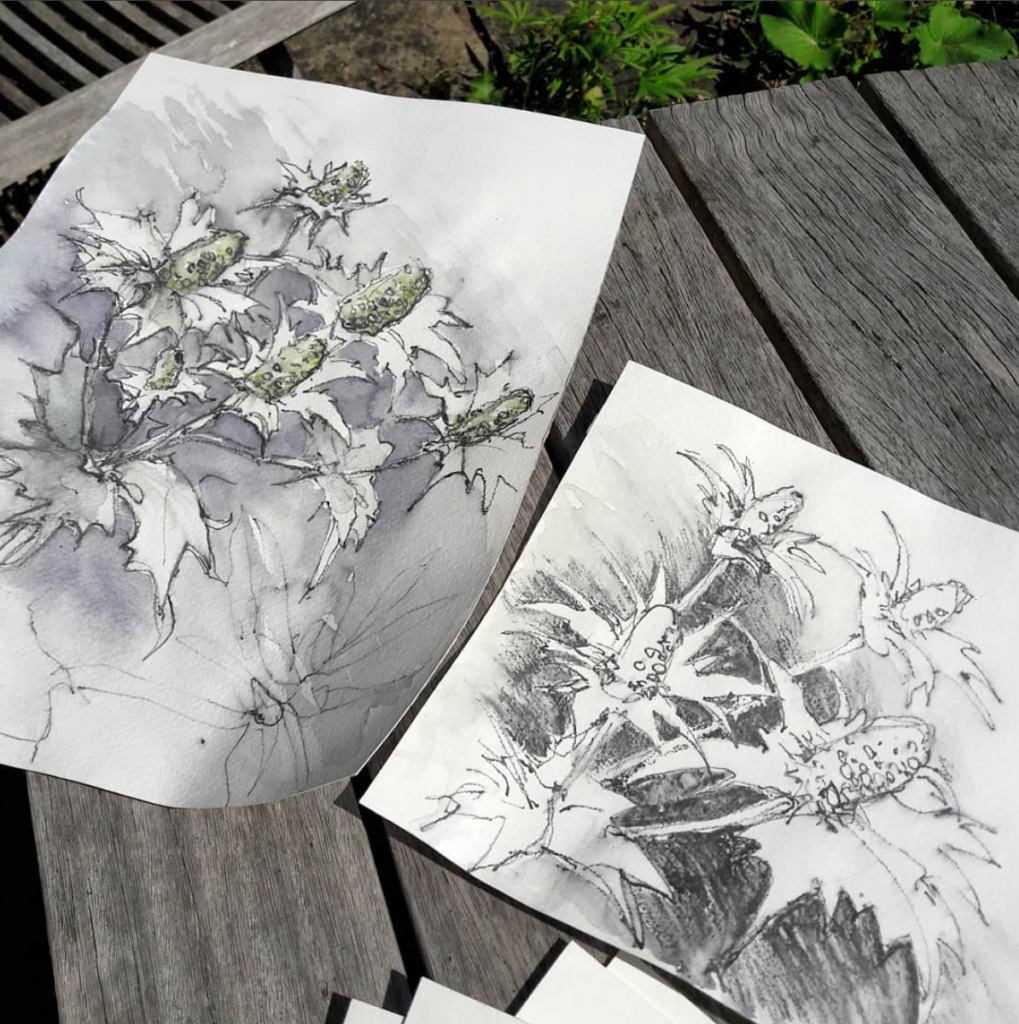 Back again on an overcast, humid day and the midges were biting, but the garden was as beautiful as ever. Particularly drawn to the fat, red cherries on the ivy-clad wall by the house and the fragrant sweet peas with their wild tendrils.
I still want to paint the huge thistles, but I'm aware that I'm naturally drawn to drawing spiky or dead things(!), so I forced myself to paint softer subjects this time.
Then a busy period of framing. My frame delivery was smashed by the courier, so I was framing later than I'd normally be comfortable with.  Big thanks to Braithwaites for coming to the rescue with my frames! My friend, Lynne, showed me how to do archival framing of paper works, so these are hinge mounted and sealed.
…and here they are, all framed and ready to hang…