Friday was a thundery day in York, so Lynne and I weren't overly optimistic when we set off for a sketching session on the North York Moors. We passed through a torrential downpour, but then it stopped and the light was incredible at the Hole of Horcum, where we got out our sketchbooks and took in the panoramic views.
The Hole of Horcum is, according to legend, where Wade the Giant scooped a handful of earth and lobbed it at his wife during an argument (though scientists dispute this and think it's more likely to be glacial!). The earth drops away to a huge amphitheatre.
The heather is in full flower on the North York Moors at the moment, so there were carpets of pink and mauve, and the grass was bright where the sun broke through the clouds – a constantly changing view.
A grasshopper decided to befriend me too, and sat on my sketch for a good ten minutes while I scribbled. I don't think he was stuck to the masking fluid!
I worked in graphite and watercolour for ease, but regretted not taking some more intense media. The following day, back at the easel and working from my sketches, I attacked it again with some oil paints to get the colours down while it was fresh my memory.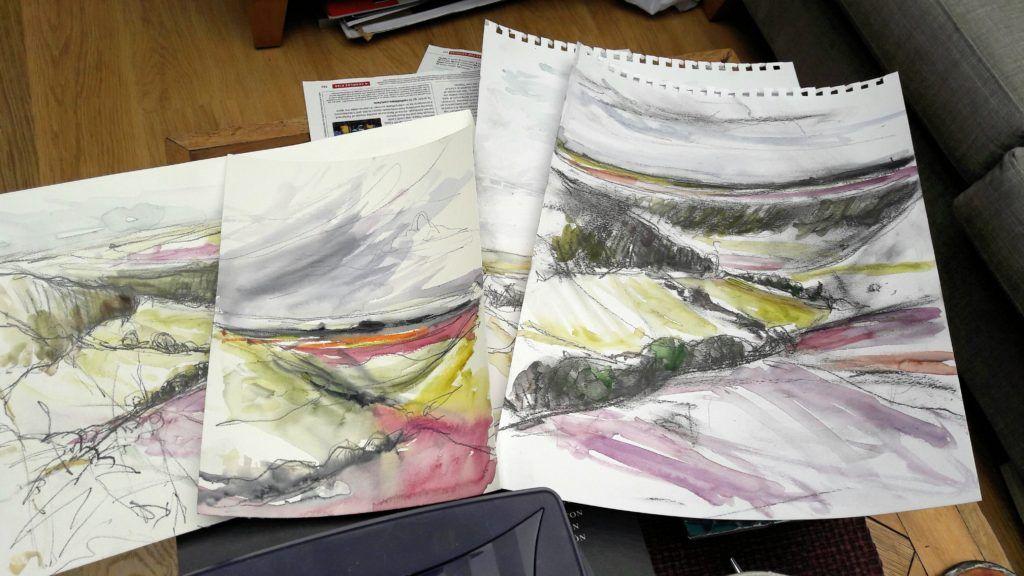 The finished piece…
Oil on paper with double white mount behind glass. Simple 15mm dark brown wood frame. Visible painting: 350 x 160 mm  Size framed: 510 x 315 mm
SOLD